Claire Bear Flies To Oshkosh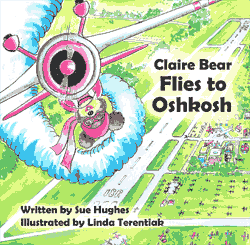 This book is for 3-8 year olds and parents or grandparents who love bringing the world of flying into the hearts and minds of the little people.
In Claire Bear Flies To Oshkosh Claire (the Bear) visits EAA's AirVenture, "The World's Greatest Aviation Celebration," held every summer in Oshkosh, Wisconsin (USA).  With her ryhming style Claire flies to the event and performs in the world's greatest airshow.
Anyone who has used the special flight procedures implemented during AirVenture will relate to Claire when she rocks her wings and lands on the green dot at Oshkosh's Wittman Regional Airport.
This is the fourth book in the Claire Bear series… check out our reviews of two of the others in the series, such as Claire Bear's First Solo, and the most important treatise ever written on the aviation phonetics, Claire Bear's "The Pilot Alphabet".
You can get this book direct from the author, Sue Hughes, from her website, Powder Puff Pilot.
Info About The Book provided by the Author…
Sue Hughes—a pilot since 1996 and a current flight instructor and aviation technical writer—whose goal is to introduce the thrills and exhilaration of aviation to a new generation. With her latest title, Hughes describes the enormity and excitement of AirVenture, "although it's difficult to convey how big this event really is, and how special it is to aviation fans," explained Hughes. "I've been to Oshkosh five times, and can't wait to go again."
Hughes credits illustrator Linda Terentiak for really bringing the Oshkosh experience to life. The two met at Oshkosh in 2010 and later, when Hughes needed an illustrator for her next book, Terentiak rose to the top of her wish list. "This project took longer than usual," said Terentiak, "because the drawings were based on actual photos, and we took great pains to get them correct. It is so exciting to see it come together!"
EAA Communications Director Dick Knapinski vouches for the accuracy of the new release, saying, "The book was definitely written by someone who had flown the Oshkosh approach before." He added, "Love the book and I hope it does great!"
The first in Hughes' picture book series, Claire Bear Presents… The Pilot Alphabet, now in its fourth printing, was published in 2008. It teaches Alfa, Bravo,Charlie, and the rest of the words that pilots and air traffic controllers use to communicate clearly over the radio. In 2009, Hughes published her second picture book, Claire Bear's First Solo, which accurately depicts a pilot's first solo experience—an exhilarating flight that every aviator vividly remembers. Last year she released her third book, Claire Bear Explains… What Pilots Fly, which offers an overview of the wide variety of missions and aircraft that pilots fly. All three titles have been named by USA Book News as National Best Book finalists.