1911: Cal Rodgers (First Trans-USA flight)
A Crash Course in Transcontinental Flight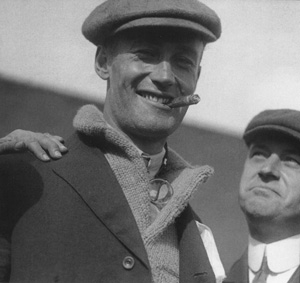 Born in Pennsylvania, USA in 1879, Cal suffered scarlet fever as a child — an illness that left him almost completely deaf. Never one to let a handicap stand in his way, as a young man Cal received flight training from Orville Wright.  As was normal in 1911, his flight training was short… after 90 minutes of flight training he passed his test and was issued with Pilot Certificate number 49.
The year before a wealthy businessman, William Hearst, offered a prize of $50,000 for the first person to fly from coast to coast of the USA within a period of 30 days.  ($50,000 was a LOT of money in those days!). This prize, not having been won, was due to expire at the end of 1911, and several aviators wanted to take a shot at it.  So did Cal…
However, at a time when aircraft were not very reliable and landing fields simply paddocks or dirt roads, there were plenty of obstacles.  In the end Cal did not complete his journey within the 30 days required for the prize — 16 crashes along the way slowed him up somewhat; Cal took 49 days for his crossing.
Presumably he was well sick of his airplane by the time he arrived at Long Beach, California — he deliberately taxiied it into the sea, symbolically completing his coast-to-coast epic.
Despite not winning the prize Cal was still the first ever to accomplish the transcontinental-USA flight, a tribute to his courage and determination that simple things, like deafness, injury and 16 crashes, would not stand in his way.
At the time of this post (October, 2011) it is 100 years since Cal's epic flight… Well done Cal!  You were (and are) an inspiration to many.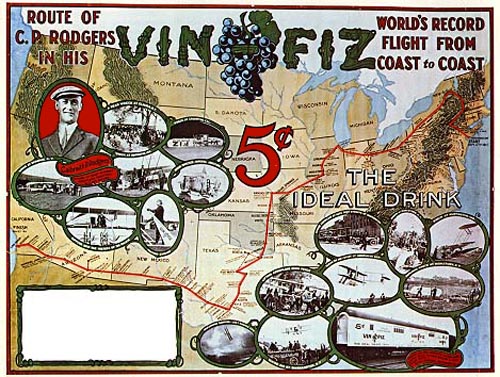 Here is some movie footage from a Smithsonian Lecture about Cal's and his aircraft (known as "The Vin Fiz")…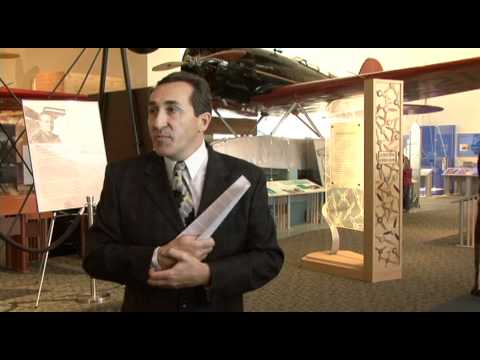 Cal Rodgers
1911: Pilot License Taught by Orville Wright
1911: USA coast-to-coast 49 days (record)
1912: Demonstration flight Long Beach, California (incomplete)

References
Cal Rodgers (Wikipedia)
Aerofiles (Cal Rodgers)
An excellent novelized version of the Cal Rodgers story has been recently written by author Bob Boyles – very readable and with some new research about the construction of Cal's aircraft… Crashing Coast To Coast (eBook by Bob Boyles)