Solar Impulse: Around the World on Solar Power?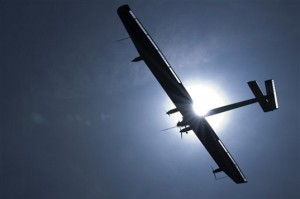 Who said the days of pioneering aviation were over? No way, according to the team at Solar Impulse, a bunch of European aviators and innovators who are determined to be the first to fly around the world in a solar powered aircraft.
This is more than pie in the sky… with several test flights already under their belts, the Solar Impulse team is planning their first "international" flight shortly. Of course, being based in Switzerland makes an "international" flight easier than if they were based in Australia, for example.  Nonetheless, it is a sign of progress and an expanding flight test program.
Weighing in at 2 tonnes with a wingspan similar to an Airbus A-340 airliner, the Solar Impulse is an evolving engineering masterpiece: it's 12000 solar cells, batteries to handle the unavoidable reality of night time, and computers to control everything at maximum efficiency are the complicated innards to it's gangly and yet strangely beautiful form.
Flight testing and aircraft development is continuing, with a number of European flights expected this year (2011), working up towards a trans-Atlantic crossing, and then a multi-stage flight around the world.  Some improvements in battery technology are still required before a non-stop global flight can be attempted.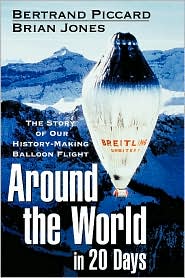 The Solar Impulse project was started in 2004 by Swiss balloon pilot Bertrand Piccard, himself no stranger to round-the-world flight:  In 1999 Piccard, along with fellow pilot Brian Jones, completed the first ever non-stop balloon flight around the Earth.
Bertrand Piccard comes from a long line of pioneers: his grandfather Auguste added a pressurized cabin to a balloon (allowing him to set several altitude records), and his father Jacques is one of only two people to have explored the depths of the Mariana Trench (the deepest part of the ocean).
Bertrand and his team prefer the sky, and they are no strangers to attempting difficult tasks.  The quote from author Jules Verne on the Solar Impulse website sums up their can-do attitude: "All that is impossible remains to be achieved."
I will be watching the progress of the Solar Impulse project with great interest, and you can too.  Regular updates are available from their website, www.solarimpulse.com , and you can even become a supporter of the project.
Did you think all of the great aviation challenges have already been accomplished?  Not on your Nelly!