Lunar Lander Game
Enjoy this excellent version of the classic Lunar Lander game, made available by the University of Colarado.

Author: Thursten Master
Thursten, or "Thrust" as he prefers to be called, is our resident technical genius. This is not a term used lightly... he really does have a brain the size of a planet and he solves a myriad of tricky problems for us. Thrust is particularly interested in the science of flight and, unlike many large-brain academics, is very good at explaining science in terms that normal people can understand.
Search This Site…
--- EXTERNAL LINKS ---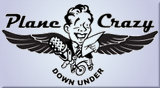 Aviation podcast featuring news and special interest topics from the Australia/New Zealand perspective.
www.planecrazydownunder.com

www.swamp.com.au
Read our Book Review:
Full Power Ding Duck